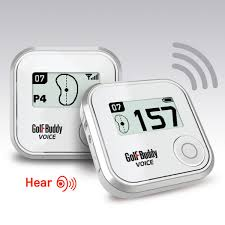 GolfBuddy VS4 GPS - White/Gold
EASY-TO-USE Talking GPS With Versatility
Introducing the newest addition to the GolfBuddy Voice line, the VS4. The VS4 is a simple distance measuring device. With one click of a button, you can hear the distance to the front/center/back of the green. The versatile VS4 can be used to clip on your cap or belt. Use the optional accessories to wear it on your wrist or attach to your gear with the retractable clip.
Simple audio distance measuring device
Detachable unit to provide versatility
Water Resistant
Distance to front/center/back of the green
Dynamic Green View
Preloaded with 37,000+ global courses
Automatic course & hole recognition
Shot distance measurement
10 hour battery life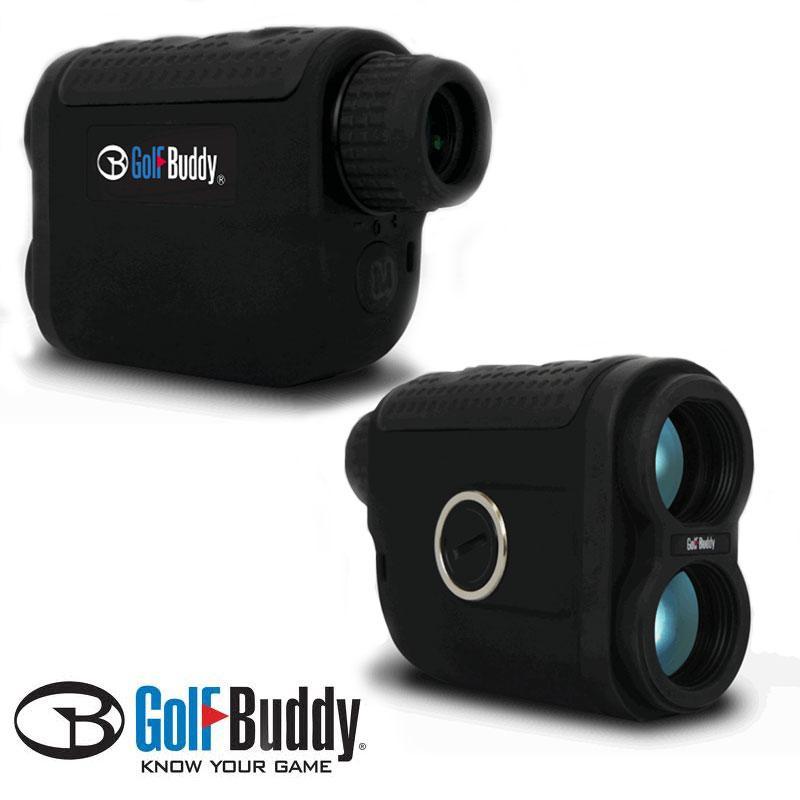 GolfBuddy LR3 Laser Rangefinder
Weighing just 200grams, this new golf laser retails for just $349.95 and is the most compact, light and powerful rangefinder in the market, packed with features to help golfers get the ultimate in on-course yardage accuracy.
This includes:
· Accuracy: +/- 1m
· Yards or metres display
· Water and dust resistant (IPX4 structure design)
· 10-seconds laser beam
· Compact, lightweight & ergonomic body
· Automatic shut-off after 10 seconds
· Default to "Last Used" settings
· Up to 5,000 scans battery life
· Multi-coated lenses
· 6x magnification
· Diopter adjustment (eyepiece focus adjustment)
· Suitable for glasses wearers
· 7 degree field of view
· 23mm objective lens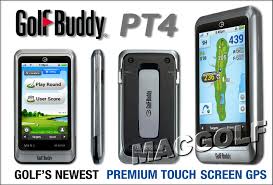 GolfBuddy PT4 GPS
Most Advanced Handheld GPS
With an enlarged 4-inch high resolution LCD and slim body design, the PT4 Is the ultimate rangefinder that offers the finest golf GPS experience. The capacitive touch screen improves control with a new and more responsive interface. Preloaded with an industry leading 37,000+ global courses and replaceable battery, the GolfBuddy PT4 continues to innovate in the handheld category
4" LCD screen with high resolution
New user interface with capacitive touch control
Slim body design
Water resistant
Dynamic Green View
Preloaded with 37,000+ global courses
Automatic course and hole recognition
Easy scoring feature
Score tracking module (up to 4 players)
Statistics Analysis Module
Precise distance to any target
Customizable targets
Shot distance measurement
Moveable Pin Placement
Replaceable Battery
8 hour battery life
50 channel satellite reception
AVAILABLE SOON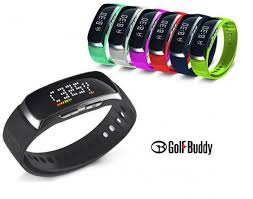 GolfBuddy BB5 GPS Band
Innovative & Fashionable Golf GPS Band
GolfBuddy continues to innovate with the introduction of the BB5, the first ever golf GPS band in the world. This unique and fashionable band offers distances to the front/center/back of the green on a LED display. The BB5 offers comfort, style and function, all in one. 6 different color bands matching your attire are available and it includes time mode, play mode, pedometer feature and comes preloaded with over 37,000 courses.
Features:
Distances to front/center/back of the green
Shot distance measurement
Pedometer
Auto course/hole recognition
Water resistant
Time
Rechargeable battery
Interchangeable wristband*
Note*: Interchangeable wristbands sold separately.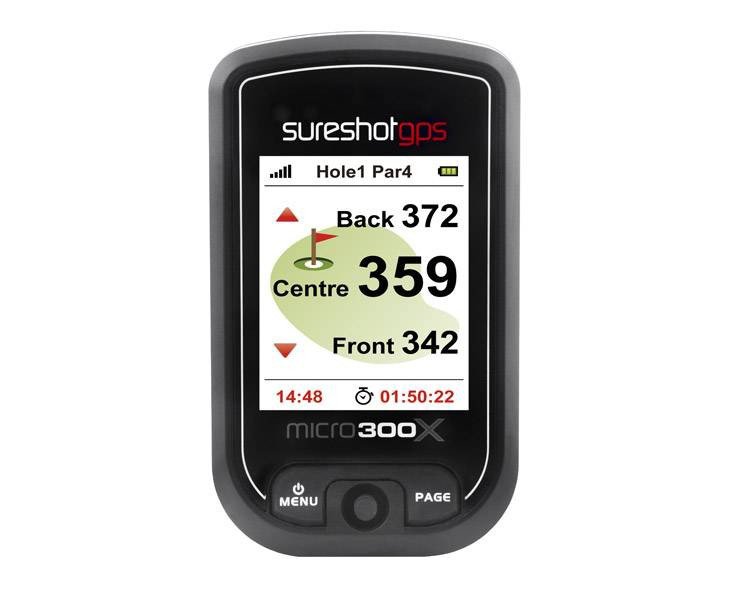 Sureshot Micro 300X
When all you need is the front, centre & back Sometimes all you want are accurate distances to the front, centre & back of the green. With easy to understand pages and colourful images & large font, knowing the distance has never been easier.
Preloaded with Australian and New Zealand courses Use your Sureshotgps Micro 300x straight out of the box with Australian and New Zealand courses preloaded, no registration required and FREE lifetime membership to the Sureshotgps database. Travelling overseas? Access our worldwide map database containing 10,000 international courses.
Breeze through the round with automatic course and hole recognition Enjoy the convenience of Automatic course recognition, displaying the closest 5 courses to your location and breeze through your round with automatic hole advance so you can focus on your game.
And beat your personal best... Gauge the distance of your longest drive with the easy to use Shot Distance feature. Simply mark your position, hit the ball and away you go.
All in a lightweight, robust, waterproof casing The Sureshotgps Micro 300x comes with a new sporty lightweight casing. Extremely resilient and waterproof to IPX6 for all year round use.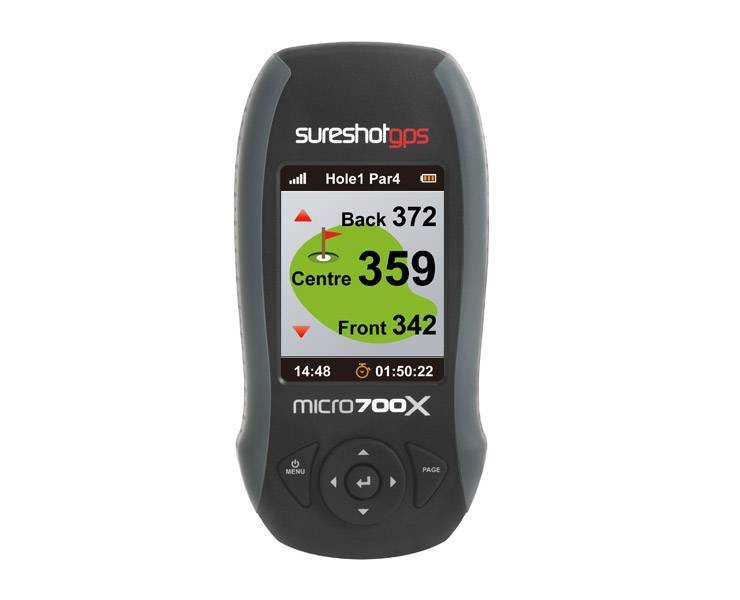 Sureshot Micro 700X
Preloaded with Australian and New Zealand courses Use your Micro 700X straight out of the box with Australian and New Zealand courses preloaded, no registration required and FREE lifetime membership to our course database. Travelling overseas? Access the Sureshotgps worldwide map database containing 10,000 international courses. To find out if your course is mapped visit our course library.
Know the distance to the front & carry of hazards View distances to the front centre and back of the green in large font PLUS enjoy the advantages of knowing the front and carry distances to key hazards. Hazards are easy to recognise with colourful images displayed on screen giving you the overall picture of the hole.
Easy to read font and colourful screens No tricky data to analyse, no cryptic GPS information to decipher. Simple layouts, colourful screens with large font make using the Micro 700X a pleasure. Use the Micro 700X in all weather conditions and make the most of that Sureshot advantage.
Innovative technology displaying the closest courses to you Convenience is the key. Using innovative GPS technology, automatic course recognition will display the closest courses to your position. So when you arrive at your course you can focus on that 1st swing.
Advanced scoring system Featuring an easy to use scorecard where you can keep score during your round or access previous scorecards to compare your performance. Access par and stroke index information for your course at the touch of a button * (available December 2012 via software update).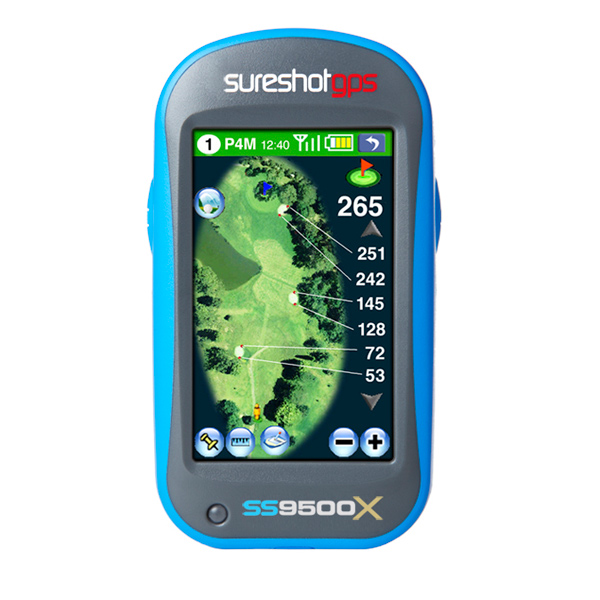 Sureshot 9500X Golf GPS
Intelligent Touch
Using an impressive 3"" transflective, sunlight readable screen, control the SS9500X using the touch screen and zoom in & out for a closer look. Using GPS the SS9500X follows your position on the course, displaying lives dis-tances to hazards and greens or choose your own point to point targets.
Touch and Zoom in Aerial Overview mode
Using the highly sensitive Touch screen, zoom in to any point on the fairway for your best take on your next great shot. The aerial overview mode allows you to see the hole layout so you can plan your best shot.
View easy to read data in Green & Hazards mode
The SS9500X allows you to choose the way you view distances. In this mode, you can see live distances to the Green and infinite hazards in simple data form.
Faster & Longer
The new SS9500x is built to last 36 holes and is designed with a faster GPS receiver so you see the most accurate distances without delay. Plus the SS9500x works straight out of the box so you're ready to hit the course faster.
Know the distance on international courses
The SS9500X comes preloaded with Australian courses, in both Aerial Over-view mode and Green & Hazards mode. If you are travelling overseas you can now download international maps and view them in Green & Hazards mode. To download maps go to manage courses.
Scoring Function
Track your score and longest drive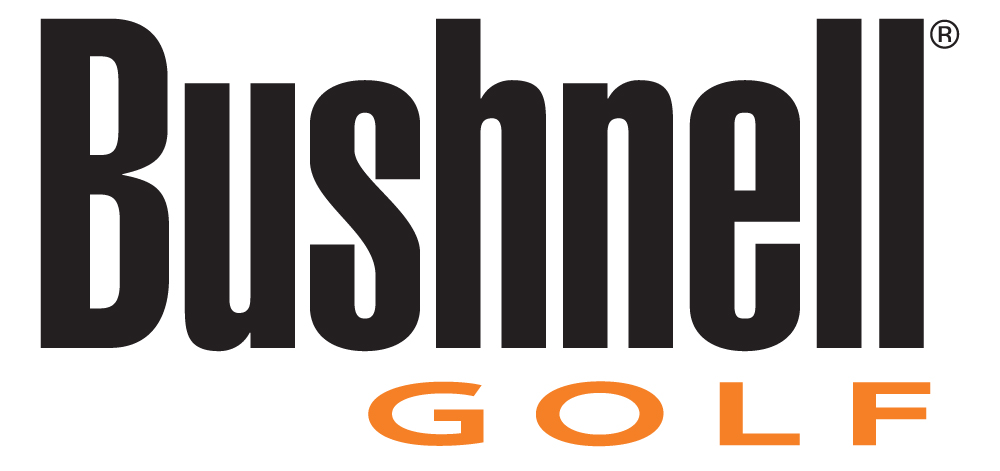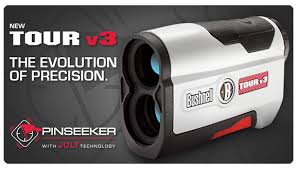 With its new ergonomic design and its award-winning PinSeeker with JOLT Technology, the Tour V3 sets the standard for being the complete laser rangefinder package - design, performance and feel.
JOLT Technology eliminates all doubt by delivering short vibrating bursts to reinforce the laser has locked onto the flag. Use what the Pros use, feel the exact distance... FEEL THE JOLT.
PinSeeker Technology with JOLT Technology to zero-in on the flag
Accuracy within 1-yard
5 yards - 1,000 yards ranging performance. 300+ yards to a flag
5x Magnification
Ergonomic design provides a stable grip
Posi-Thread™ Battery Door
3-Volt Battery and Premium Carry Case included
Rainproof Construction
2 Year Warranty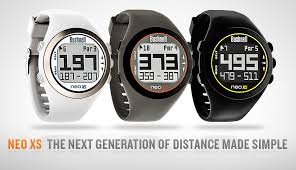 NEO XS
Thin, comfortable, long battery life and up to 4 hazard distances per hole.
Preloaded with over 33,000 courses in more than 30 countries, no downloads and no membership fees ever.