SAM PUTT LAB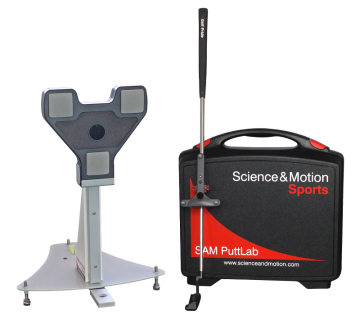 Price: $140 - 60 Minutes
THE COMPLETE PUTTING SOLUTION
Complete analysis of ALL relevant putting aspects

Specific training modules

New Report Builder: Customized Reports, 80+ Report tiles

Suitable for amateurs up to PGA Tour players

Over 2.000 satisfied customers worldwide

Professional putter fitting

Portable for indoor and outdoor use

3D-Putt replay module (3D-Putt details & videos)

Putt training in a new dimension
43 % of the golf shots are putts, however, putting is rarely trained systematically. Neuroscience tells us that efficient learning is all about accurate feedback. SAM PuttLab offers the most efficient technology to train for ascertainable success.
Testimonials of many Instructors and PGA Tour Pros attest the unique abilities of SAM PuttLab (See our Testimonials).

Most accurate tracking technology
SAM PuttLab is the worlds most accurate and comprehensive putt analysis and training system. Other technology lacks accuracy, which is so much needed for putting, or only measures a few aspects of the putting stroke.
The PuttLab 6 software with app remote control and Report Builder module is now available - More info on PuttLab App.
Cutting edge putting analysis
DISCOVER YOUR INDIVIDUAL STRENGTHS & WEAKNESSES
Evaluation of 40+ putting parameter
SAM PuttLab analyzes more than 40 important parameters of your putting stroke and displays the results in easy to understand graphic reports. Discover your individual strengths and weaknesses for better and more efficient training.
Within seconds the system gives you individual feedback on your putting strokes. The analysis reveals even the smallest details of your movements and allows you to develop improvements and training strategies.
SAM PuttLab utilizes ultrasound sensory analysis and therefore is far more precise than any other similar system on the market.
Click here to download PuttLab Product Brochure
Main features of analysis:
Measurement of 40+ parameters (see "Parameter overview" below)

Auto-calibration

Feedback training

Graphic result reports

Performance profiles

Tour scoring

Interactive protocols

Gaming