CLUB FITTING
At Banners Golf we want you to have the best equipment that is fit and built for you and your unique swing. Golfers of all levels will benefit from a fitting. Banners Golf wants you to enjoy the game of golf more and help you shoot lower scores. Our fitting system and our club fitting and experience will help your game have No Limits. With the largest selection of all major shaft, club and grip manufacturers at our disposal, we are determined to fit and build the perfect set of clubs for your game.
FITTING
Get the PGA Professional's edge your golf game needs with a custom club fitting from Banners Golf.
BUILDING
Our cutting edge Flightscope technology enables us to analyse and select the perfect golf club to suit your height, weight and swing attributes.

THE DIFFERENCE
Hit the ball straighter. Drive further. Custom golf clubs from Banners Golf will take your golf game to the next level.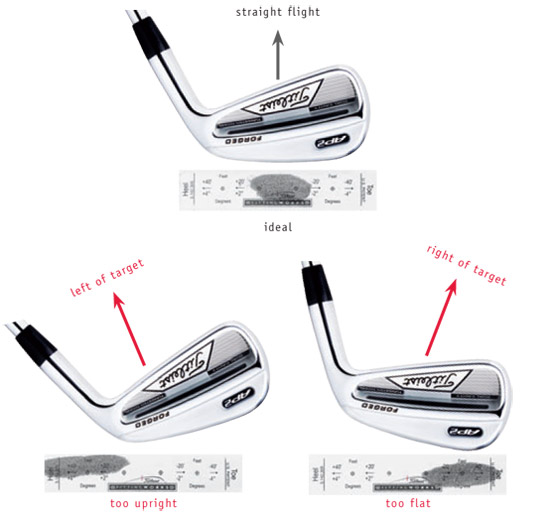 Why Should I be fit for clubs?
Having clubs that are specifically fit to your unique, individual swing will help you hit the ball farther, straighter and more consistently. If the clubs you're currently using are inappropriate for your swing, an array of errant shots may arise. The wrong shaft length or flex may cause lack of distance, hooks or slices. Playing with the wrong lie will have an effect on your trajectory, or can cause pulls, pushes. The grip size can affect the way you hold the club, and may cause hooks or slices or too much tension in your hands.
How long does a fitting session take?
Our custom fitting session takes approximately 1 to 2 hours, depending on the number and type of clubs you are being fitted for. Discuss what you want and we'll let you know how much time to allocate for your fitting.
What happens in a custom fitting session?
In sessions for clubs other than putters, you'll test a variety of head styles and shaft flexes from different manufacturers, using face tape to indicate your points of impact for length and consistency of hit. We use the FlightScope launch monitor to compare individual club performance, calculate ball speed, launch angles, backspin rates and verify optimal ball flight based on what the golfer sees and feels, and what we see in determining the clubs with optimal performance. For putters, we'll measure your natural set-up to determine length and hosel styles that will work with your stance. You'll test putters while we measure results using the TOMI system and then once everything is dialed in, you'll roll putts on our real-grass putting green to finalize a selection. We'll also fit you into the proper grip for your putter to ensure no unnecessary hand tension is caused by the grip.
How do I know if I'm good enough to be custom fit for clubs?
If you have, at a minimum, a somewhat repeatable swing, you can be custom fit for clubs or a putter. Many times people think they have to be a "good" player to deserve custom fit clubs. Actually, it's the opposite -- don't wait to be "good" because you may never get there without custom fit clubs. A highly-skilled player can compensate for ill-fit equipment better than a lesser-skilled player. In fact, it may be the equipment that is holding you back from reaching your potential. Many players see significant improvement in their game with new equipment or adjustments to their existing clubs.
What is the difference between being fit at one of the club manufacturer's facilities and coming to your facility?
The major difference in being fit with us is you get to attempt lots of different brands at the same time and we are unbiased with which clubs you purchase. By having so many brands, we are able to fit you to what works best for your swing -- and most times it takes more than one brand to play your best. If you just want one brand, then coming here or going to the manufacturer are both great, but the fit will most likely cost you more if you go to the manufacturer. And, some of the manufacturers do not actually sell clubs at their fitting facilities and will send you to somewhere like our facility to buy them.
Will switching to new clubs drastically affect my game?
Usually just for the better. Rarely do we see much of an adjustment period with new equipment, especially if it is fitted to the golfer. Most people immediately hit the ball better and putt better, but it depends on how much of a change it is from their prior clubs. We generally suggest allowing 2-3 weeks to get used to the new yardages and feel. Also, the best time to get fit is when you are hitting it well. In the end of the fitting process you get to decide what you want to do with your equipment.